The TAMUK rabbit was developed by Texas A&M University. They are known for their fast maturity and heat resistance. The rabbits here are from Rose Oaks out of Texas.
POSSIBLE BABY BUNNIES IN NOVEMBER!! CHOCO JUMPED INTO THE COLONY ON 10/5
POSSIBLE BABIES IN DECEMBER!! PUDDLES JUMPED INTO THE COLONY ON 11/13
I decided to change the fluffle around and made a few colony pens for the 3 does to 1 buck. If interested in a kit at 9 weeks old, please let me know.
Prices start at $40 for solid kits and $50 for any patterns
WE HAVE KITS IN THE BOX! CHECK TO DOES INFORMATION FOR READY DATES!!
ROSE OAKS CHOCO
BUCK
DOB: 08/30/2021
COLOR: CHOCOLATE
ON LOAN TO BENTON & CO IN ARKANSAS
SS: ROSE OAKS ONYX - BLACK
SIRE: ROSE OAKS MOCHA - CHOCOLATE
SD: ROSE OAKS TAZ - SILVER-TIPPED STEEL
DS: ROSE OAKS MAGNUM - BLACK MAGPIE
DAM: ROSE OAKS FAWN - RED
DD: ROSE OAKS RUBY - RED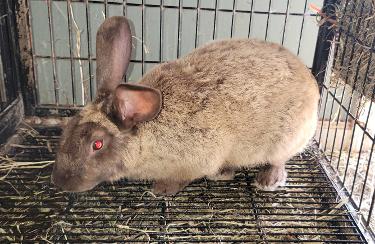 ROSE OAKS PUDDLES
BUCK
DOB:
COLOR: CHOCOLATE MAGPIE
ROSE OAKS BUGS
BUCK
DOB: 08/29/2021
COLOR: BLUE CHINCHILLA
SS: ROSE OAKS MAGNUM - BLACK MAGPIE
SIRE: ROSE OAKS JUPITER - BLUE JAPANESE
SD: ROSE OAKS FOXY - BLACK TORT
DS: ROSE OAKS STERLING - BLACK CHINCHILLA
DAM: ROSE OAKS FLORA - BLACK STEELED HIMAYALAN
DD: ROSE OAKS TAZ - SILVER-TIPPED STEEL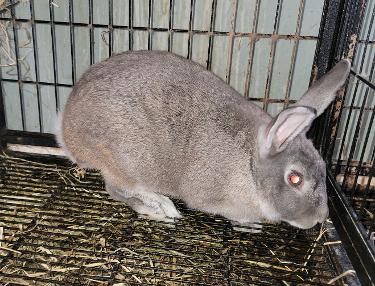 B'S CORNER NIBBLES
BUCK
DOB:
COLOR: HIMILAYAN
ROSE OAKS BB
DOE
DOB: 08/30/2021
COLOR: CHINCHILLA MAGPIE
SS: ROSE OAKS MAGNUM - BLACK MAGPIE
SIRE: ROSE OAKS EROS - BLACK JAPANESE
SD: ROSE OAKS TIGRESS - BLACK JAPANESE
DS: ROSE OAKS BLUE EYES - ERMINE
DAM: ROSE OAKS SMOKY - SABLE POINT
DD: ROSE OAKSCOCO - BROWN
COLONY BRED TO PUDDLES 11/13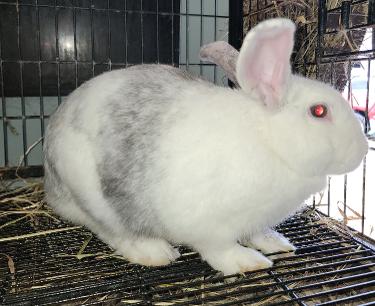 ROSE OAKS IRA
DOE
DOB: 08/29/2021
COLOR: IRMINE
SIRE: ROSE OAKS STERLING - BLACK CHINCHILLA
DS: ROSE OAKS TIGER - BLACK JAPANESE
DAM: ROSE OAKS FOXY - BLACK TORT
DD: ROSE OAKSMARBLES - BLACK MAGPIE
COLONY BRED 10/5 TO CHOCO
11/13/2023 -LITTER OF 8 KITS
WILL BE READY JAN 13, 2023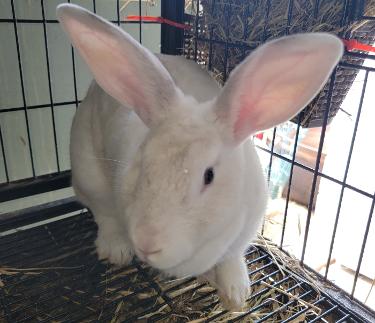 ROSE OAKS SANDY
DOE
DOB: 08/28/2021
COLOR: CHOCOLATE CHINCHILLA
BRED TO CHOCO 7/05
SIRE: ROSE OAKS ONYX - BLACK
DS: ROSE OAKS MAGNUM - BLACK MAGPIE
DAM: ROSE OAKS FLINTY - LILAC CHINCHILLA
DD: ROSE OAKS NOVA - LYNX
COLONY BRED 10/5 TO CHOCO
11/10/2022 - LITTER OF 6KITS
WILL BE READY BY JAN 12, 2023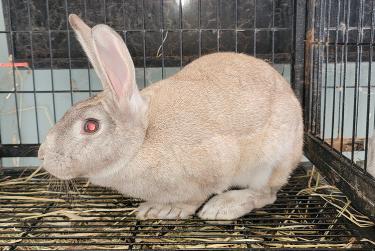 ROSE OAKS PEACHES
DOE
DOB:
COLOR: LIGHT CHOCOLATE CHINCHILLA
COLONY BRED TO PUDDLES 11/13
B'S CORNER PEZ
DOE
DOB:
COLOR: HIMILAYAN
COLONY BRED TO PUDDLES 11/13
ROSE OAKS MINGO
DOE
DOB:
COLOR: CHOCOLATE MAGPIE
BRED TO
B'S CORNER JUNE
DOE
DOB:
COLOR: JAPANESE HARLIQUIN