B&S FARM RABBITRY
The TAMUK rabbit was developed by Texas A&M University. They are known for their fast maturity and heat resistance. The rabbits here are from Rose Oaks out of Texas.
I decided to change the fluffle around and made a few colony pens for the 3 does to 1 buck. If interested in a kit at 9 weeks old, please let me know.
Prices start at $30 for solid kits and Himalayan and $40 for any patterns.
WE HAVE KITS IN THE BOX! CHECK TO DOES INFORMATION FOR READY DATES!!
ROSE OAKS CHOCO
BUCK
DOB: 08/30/2021
COLOR: CHOCOLATE
SS: ROSE OAKS ONYX - BLACK
SIRE: ROSE OAKS MOCHA - CHOCOLATE
SD: ROSE OAKS TAZ - SILVER-TIPPED STEEL
DS: ROSE OAKS MAGNUM - BLACK MAGPIE
DAM: ROSE OAKS FAWN - RED
DD: ROSE OAKS RUBY - RED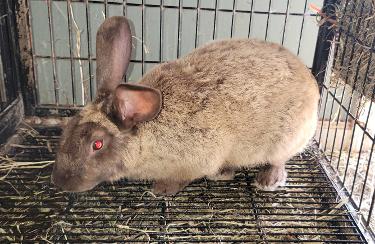 ROSE OAKS PUDDLES
BUCK
DOB:08/28/2021
COLOR: CHOCOLATE MAGPIE
on loan
SS: TEXAS A&M BUCK
SIRE: ROSE OAKS RED - RED
SD: TEXAS A&M DOE
DS: ROSE OAKS THOR - CHOC MAGPIE
DAM: ROSE OAKS ROSE - CHOCOLATE
DD: ROSE OAKS MARBLES - BLACK MAGPIE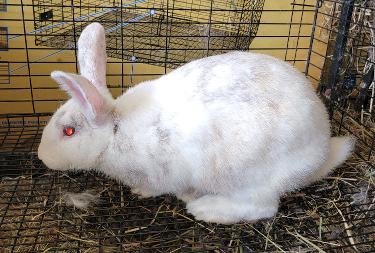 ROSE OAKS SANDY
DOE
DOB: 08/28/2021
COLOR: CHOCOLATE CHINCHILLA
SS: TEXAS A&M BUCK
SIRE: ROSE OAKS ONYX - BLACK
SD: TEXAS A&M DOE
DS: ROSE OAKS MAGNUM - BLACK MAGPIE
DAM: ROSE OAKS FLINTY - LILAC CHINCHILLA
DD: ROSE OAKS NOVA - LYNX
COLONY BRED 10/5 TO CHOCO
11/10/2022 - LITTER OF 7 KITS BY CHOCO
12/12/2022 - LITTER OF 8 KITS BY CHOCO
03/11/2023 - LITTER OF 12 KITS BY PUDDLES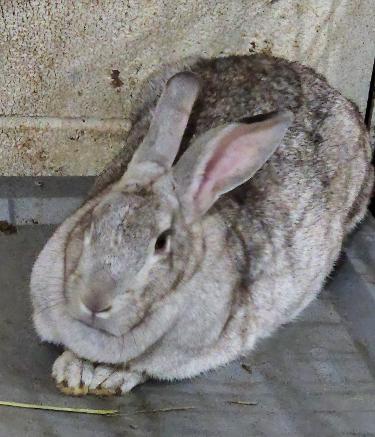 ROSE OAKS MINGO
DOB: 08/29/2021
COLOR: CHOCOLATE MAGPIE
SS: ROSE OAKS SLY - LILAC CHINCHILLA
SIRE: ROSE OAKS SCOTIA - LYNX
SD: ROSE OAKS TIGRESS - BLACK JAPANESE
DS: ROSE OAKS MAGNUM - BLACK MAGPIE
DAM: ROSE OAKS MARBLES - BLACK MAGPIE
DD: ROSE OAKS SERENITY - BLACK HIMALAYAN
03/02/2023 - litter by Puddles
B'S CORNER SUMNER
ON LEASE FROM B'S CORNER
COLOR: JAPANESE HARLIQUIN
B'S CORNER KULL
ON LEASE FROM B'S CORNER
COLOR: BLACK