CORDLE FARM B MERCENERY pending
03/10/2020 BROKEN CHAMOISEE BUCK KID
SIRE: *BRAINTREE M BLAZING COLORS
DAM: CORDLE FARM B COLORS OF LETTIE
$300 DNA/ADGA REG WILL BE DONE
Super nice buck kid that is tall and long. I really like this kid and so wished he was a doe. His littersister might be for sale as well (black/white)
IF PICKED UP BY APRIL 4TH $250.00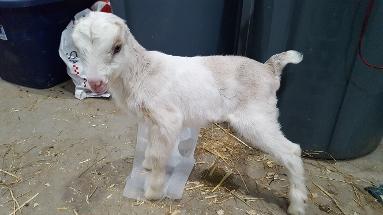 CORDLE FARM B MANDARIN pending
03/13/2020 BROKEN BLACK AND TAN, WHITE POLL BUCK KID
SIRE: *B RAINTREE M BLAZING COLORS
DAM: CORDLE FARM MCST KIWI
$300 DNA/ADGA REG WILL BE DONE
Everyone needs a Friday the 13th kid........ Really sweet kid that is on the smaller size but is unfolding nicely.
IF PICKED UP BY APRIL 4TH $200
CORDLE FARM B MOTOWN MAGIC pending
03/15/2020 BLACK AND WHITE, WATTLES BUCK KID
SIRE: *B RAINTREE M BLAZING COLORS
DAM: SGCH RAINTREE EZ KALISTA 3*M 90EEEE
$750 DNA/ADGA REG WILL BE DONE
Really nice pedigree buck kid that will put the milk in the pail. Kalista has been in the Top Ten several time.
SIRE: *B RAINTREE M BLAZING COLORS
DAM:
$ DNA/ADGA REG WILL BE DONE