RAINTREE SIN'S KOSMO
***DNA ON FILE***
SS: *B HURICANE-PM HSW DECADENT
SIRE: MINT*LEAF DECADENT SINS 91 EEE
SD: CH MINT*LEAF SIRIUS AUBURN
DS: *B GOAT-SAN VITO
DAM: TEMPO KERRIGAN 12*M 88 VEVE *ELITE*
DD: SG TEMPO KARENITA 11*M 89 VVEV
DAYLILY RIDGE LSM REIGN
DOB: 01/28/2023 PL281771
SS: *B ROCKIN-CB KWY JIANGXI 88 VVE
SIRE: *B LUCKY*STAR'S RJ MORGAN
SD: SG LUCKY*STAR'S RD FAYE 7*M 91 EEEE
DS: HARMONY WOODS MACABEEZ 87 VEV
DAM: DAYLILY RIDGE FAVORITE GIRL 90 EEEV
DD: POSSUM HOLLOW STEVIE NIX
CORDLE FARM RIDDICK
DOB: 02/18/2023 PENDING ***PENDING DNA TYPING***
SS:
SIRE: UNKNOWN PENDING DNA
SD:
DS: *B KASTDEMUR'S HW MAD HATTER 90 VEE
DAM: CALICO-ACRES MH MIRANA
DD: PLATTE VALLEY JULIET 2*M 90 VVEE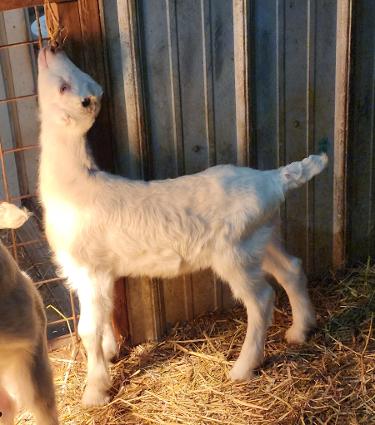 When Mirana kidded with twin bucks, I was kind of disappointed. I really was looking forward to a doe, however, this boy is just amazing! Tall, long, wide and a funny light silver maybe chammy color to boot. He is a funny looking kid. I plan on sending off his DNA and honestly using him. I believe he is by Flirt, hopefully, I am right since Flirt passed away this year. Mirana did not disappoint freshening as well. Her udder is so lovely.
GOING TO ARKANSAS
CORDLE FARM NT PIRATE JAQUE
PL2220354 DOB 03/15/2022 ***DNA ON FILE-PARENT VERIFIED*** ALPHA S1 CASEIN A/F
SS: *B KASTDEMUR'S HW MAD HATTER 90 VEE
SIRE: RAINTREE MH NIGHT TRAIN
SD: LUCKY*STAR'S TD JURY 1*M
DS: MASTER'S CALL SHERMAN TANK
DAM: CORDLE FARM MCST KIWI 89 VVEV
DD: CORDLE FARM HWM HONEYDEW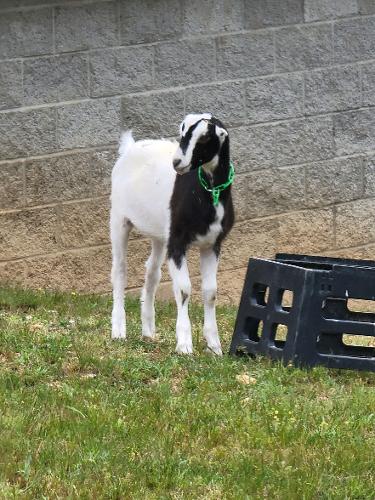 I have for years sold Kiwi's buck kids. I always tell the buyer's that I rarely, if ever, worm Kiwi. She has been wormed but her flamancha score is always great. I felt that Pirate would be a great buck to keep as he will cross over well with all my lines and any that I have brought in. He is a stunning buck kid with lots of bone and strength. I am really looking forward to seeing this buck mature and take his place here in the herd.
Goat Detail: CORDLE FARM NT PIRATE JAQUE - L002220354 (PB Buck) (adgagenetics.org)
RAINTREE B PAINTED SKY
PL2220353 DOB: 02/27/2022
SS: *B BARNOWL MERLIN
SIRE: *B RAINTREE M BLAZING COLORS
SD: SGCH OPPORTUNITY COLORS GOING GREY 1*M 92 EEEE
DS: *B BARNOWL QUONG
DAM: CALICO FIELDS Q SILVER MIST
DD: BREEZY WAY PRINCE GABRIELLA
CO-OWN WITH PATRICIA BENTON, AR