*B RAINTREE M BLAZING COLORS
02/15/2017 L1840926 02-02 80+++ **DNA ON FILE** ALPHA s1 CASEIN: B/F
SS: * B BARNOWL BLADE 92 EEE
SIRE: *B BARNOWL MERLIN 88 VVV
SD: SGCH BARNOWL FIREFLY 2*M 91 EEEE
DS: *B HURICANE-PM CONAGHER COLORS
DAM: SGCH OPPORTUNITY COLORS GOING GREY 1*M 92 EEEE
DD: OPPORTUNITY REVOLT BLACK + TAN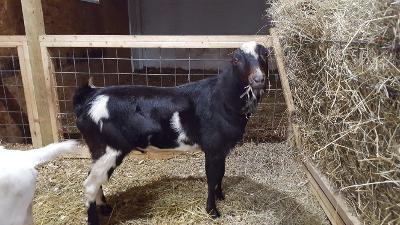 Blazes is black and white buck that is very flashy. I have long admired his dam, Grey. When the opportunity came to look for a new herdsire, I jumped at the chance to own a Grey son. Blazes is very dairy and correct on his feet and legs.
CORDLE FARM PHM JOHNNY BALL
L1960895 03/18/2017 **DNA ON FILE** ALPHA s1 CASEIN: E/F
SS: HARMONY WOODS MACABEEZ 87 VEV
SIRE: POSSUM HOLLOW MC GYVER
SD: CH WHISPER-N-CREEK L MILLY MEHALA 09-05 90 EEVV
DS: *B NICKEL'S MANDRAKE 86 VVV
DAM: CH DAYLILY RIDGE WATERMELON RIND 10-04 87 VEV+
DD: BUTTERFLY-MORM PAULA'S PRIDE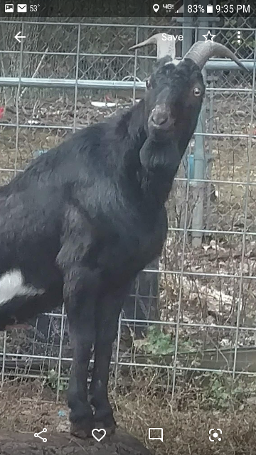 Johnny Ball is a horned black and white buck. Watermelon was not supposed to be bred as she had reached the age of retirement, so it was quite a surprise when Johnny was born. Since Watermelon was in the dry pen she did not receive any extra supplements during pregnancy, as a result, Johnny was pretty small and I was not sure he would survive. He's still not a huge buck but he is very uphill and dairy. He was not disbudded as a kid and since he did power through and live I didn't have the heart to have him dehorned. He is the only horned goat in the herd. I am hoping that Johnny will pass on the depth of body,excellent feet and legs and the longevity of his dam who LA for the first time a 10 years old and never had a sick day in her life.
*B RAINTREE Q PIRATE
03/15/2019 L2003582 **DNA ON FILE**
SS: *B LONE THISTLE BASTILLE 89 VEE
SIRE: *B BARNOWL QUONG 84 +V+
SD: SGCH BARNOWL QUILL 1*M 92 EEEE
DS:MINT*LEAF AACSM PRINCE
DAM: BREEZY WAY PRINCE GABRIELLA 3*M 85 VVVV
DD: OPPORTUNITY CHARADE GRACE 2*M 90 VEVE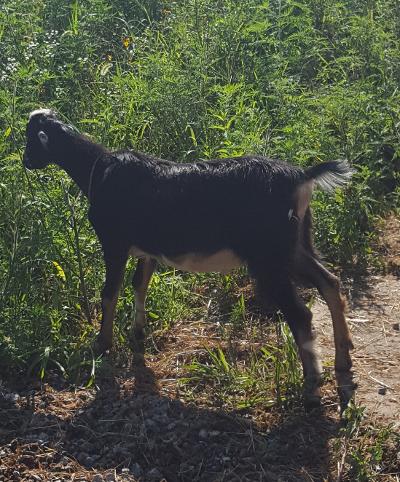 Pirate is black and tan buck that excels in length of bone and dairy character. He was a buck kid that I picked out with the thoughts of linebreeding on any offspring of Blazes. I love his sire's pedigree and I have a feeling that his's dam is going to be a doe to watch in the Raintree herd in the future.
*B J-HAVEN'S SA FAST AS A BUGATTI
03/23/2019 L2019371 **DNA ON FILE** ALPHA S1 CASEIN A/A
SS: *B HEART MT NAVION
SIRE: *B HEART MT TOTAL SARCASM
SD: GCH HEART MT SARACINA 6*M 91 VEEE
DS: ++*B KASTDEMUR'S EASY ON THE EYES 88 VEE
DAM: J-HAVEN'S EE FENDI 1*M 89 EEVE
DD: KASTDEMUR'S EUPHORIA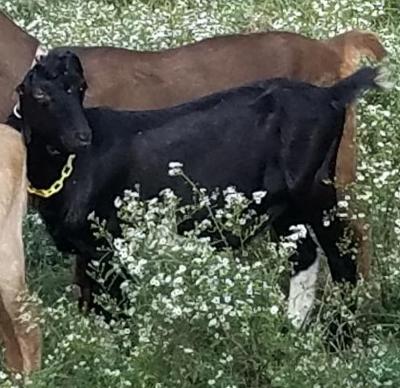 Bugatti is a black and white buck. I will be honest he was an impulse buy. Who couldn't resist the pedigree on the boy? I have great hopes that he will do great things here in the future.