RAINTREE MH NIGHT TRAIN
**DOB 03/15/2021 **DNA ON FILE*** ALPHA S1 CASEIN A/A
SS: +*B SG ROCKIN-CB KR HOKU
SIRE: *B KASTDEMUR'S HW MAD HATTER 90 VEE
SD: GCH KASTDEMUR'S WICKED 6*M ~ 92 EEEE
2018 Nat'l Champion & 2019 Nat'l Best Udder
DS: +*B SG TEMPO CAI DANIEL 91 EEV
DAM: LUCKY*STAR'S TD JURY 1*M
DD: SGCH LUCKY*STAR'S RY ACCOLADE 3*M 92 EEE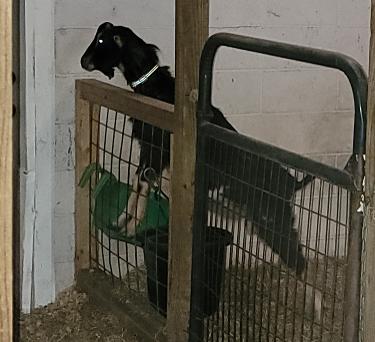 I bought Jury as a bred doe and boy was I so happy when I picked her up. She was a doe that I felt had tremendous potential and I could not wait to get her in the show ring. Unfortunately, fate had other plans and I lost her and two of her kids in the most horrendous kidding I have ever experienced. Thank God for my Mom dropping everything and coming when I call. Of course it was probably because I was bawling my head off. All I remember is Mom going I have the feet but the kid is not moving, and my heart sank. Luckily when she pulled the kid out and we cleaned him up, he was breathing. Jury passed a few days later and all I had left was a buck kid the size of a two week old kid. Bless him, I really for the longest time did not name him as I was afraid he too would pass. I love this buck kid! The combination of top pedigree goats plus the sweetest temperament has earned him a spot here for the foreseeable future.
*B LUCKY*STAR'S RJ MORGAN
PL2079074 DOB 03/08/2020 ***DNA ON FILE*** ALPHA S1 CASEIN A/A
SS: ++*B GCH KASTDEMUR'S WATCH YOURSELF 91EEE
SIRE: *B ROCKIN-CB KWY JIANGXI 88 VVE
SD: SGCH ROCKIN-CB RZ HAIKU 8*M 91 EEEE
DS: +*B SG RICKIN-CB RCC DRACO 87+EE
DAM: SG LUCKY*STAR'S RD FAYE 7*M 91 EEEE
DD: SGCH LUCKY*STAR'S LB DEBRA 6*M 91EEEE
Morgan is a tall and stylish buck that I feel will bring in a solid set of genetics to the herd. I am hoping to improve fore and rear udders so fingers crossed this is the boy that starts the ball rolling.
LA SCORES
WILL SALE PRIVATE TREATY
CORDLE FARM NT PIRATE JAQUE
PL2220354 DOB 03/15/2022 DNA AND CASEIN PENDING
SS: *B KASTDEMUR'S HW MAD HATTER 90 VEE
SIRE: RAINTREE MH NIGHT TRAIN
SD: LUCKY*STAR'S TD JURY 1*M
DS: MASTER'S CALL SHERMAN TANK
DAM: CORDLE FARM MCST KIWI 89 VVEV
DD: CORDLE FARM HWM HONEYDEW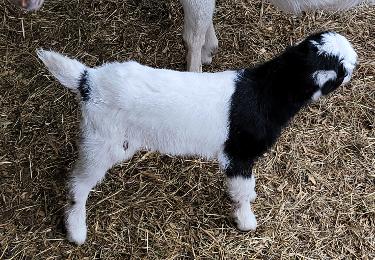 I have for years sold Kiwi's buck kids. I always tell the buyer's that I rarely, if ever, worm Kiwi. She has been wormed but her flamancha score is always great. I felt that Pirate would be a great buck to keep as he will cross over well with all my lines and any that I have brought in. He is a stunning buck kid with lots of bone and strength. I am really looking forward to seeing this buck mature and take his place here in the herd.
RAINTREE FINLEY
PENDING DOB: 03/02/2022 DNA PENDING
SS: *B CH LUCKY*STAR'S RD HARRISON 85 +EV
SIRE: *B 56&COMPANY HARRISON FROST
SD: RAINTREE EZ FROSTY SWIRL 4*M 88 VVVV
DS: AUTUMN-ACRES PULL THE TRIGGER
DAM: AUTUMN-ACRES FELICITY'S FALLON
DD: CH AUTUMN-ACRES TRESSA'S FELICITY '18 NAT'L RESERVE BEST UDDER OF BREED
I was not really looking for another buck kid, yeah right got to keep those options open, when Deb Macke asked if I would be interested in this kid. Let me say, WOW, the udder on his dam! Hopefully he can help move the herd forward!