LADY-K CFP REMINGTON
PS2339617 DOB: 03/07/2023 ***DNA ON FILE - PQ***
SS: KAPRA VISTA COLD WAR
SIRE: CENTURY FARM'S PATROIT
SD: CENTURY FARM'S RAISIN 92 EEEE
DS: TWO-CEDERS HOWARD
DAM: LADY-K TCH JOLT 85 +VVV @02-02
DD: CH LADY-K SSA XPLOSION 92 EEEE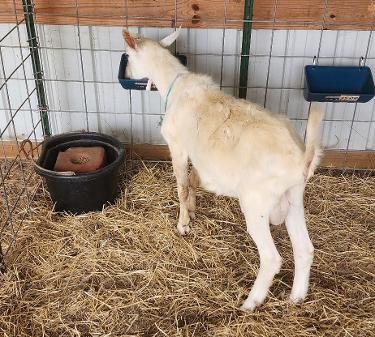 I contacted Karen Smith about a breeding buck. I wasn't too sure about what I was quite looking for as most of my herd was small, at the time I had 3 does. She kept going through all the bucks that she had that she felt where nice enough to sell and kept mentioning Jolt's triplets. The only thing is that Jolt was Percussion's dam as well. I finally went out to look at the boys and honestly Remington caught my eye as being so wedged shaped, dairy and such a pretty head. I love Percussion so I took a leap of faith and brought Remington home. He's definitely dam raised but he has the sweetest personality and I'm sure he will eventually like scratches....... but I really expect great thing out of him! He is the only Purebred Saanen on the farm. I haven't made up my mind if I want to jump into the purebred herdbook.
Goat Detail: LADY-K CFP REMINGTON - S002339617 (PB Buck) (adgagenetics.org)
CORDLE FARM NT PIRATE JAQUE
PL2220354 DOB 03/15/2022 ***DNA ON FILE- PQ*** ALPHA S1 CASEIN A/F
SS: *B KASTDEMUR'S HW MAD HATTER 90 VEE
SIRE: RAINTREE MH NIGHT TRAIN
SD: LUCKY*STAR'S TD JURY 1*M
DS: MASTER'S CALL SHERMAN TANK
DAM: CORDLE FARM MCST KIWI 89 VVEV
DD: CORDLE FARM HWM HONEYDEW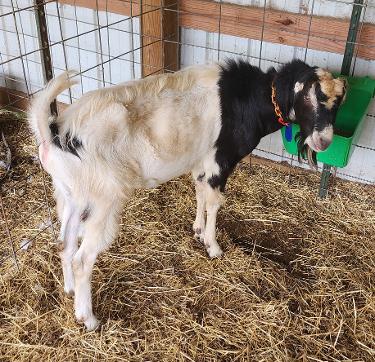 I have for years sold Kiwi's buck kids. I always tell the buyer's that I rarely, if ever, worm Kiwi. She has been wormed but her flamancha score is always great. I felt that Pirate would be a great buck to keep as he will cross over well with all my lines and any that I have brought in. He is a stunning buck kid with lots of bone and strength. I am really looking forward to seeing this buck mature and take his place here in the herd.
Goat Detail: CORDLE FARM NT PIRATE JAQUE - L002220354 (PB Buck) (adgagenetics.org)