*B ROYAL CEDARS SAMURI
03/16/2019 L2058043
SS: +*B SG TEMPO DESANI 91 EEE
SIRE: *B PURPLE THISTLE MOJAVE 91 EEE
SD: SGCH PURPLE THISTLE SAHARA 4*M92 EEEE
DS: +* PURPLE THISTLE MALACHI 90 EEE
DAM: GCH WOEST-HOEVE AZUMI 9*M 92 EEEE
DD: GCH BARNOWL SHIZUKI 8*M 90 EEVE
*BFIR MEADOW JSF KARAMEL
04/19/2018 L1981361 FS88 VVE **DNA ON FILE**
SS: *B SG GOAT-DAN EUREKA 83 +++
SIRE:*B LUCKY*STAR'S GS JOSEF 84 ++E
SD: SG LUCKY*STAR'S LB ELKE 6*M 91 VEEE
DS: *B FIR MEADOW CORI EXCLUSIVE 85 VVV
DAM: SG FIR MEADOW EXL FAITH 3*M 90 VEEE
DD: SG FIR MEADOW DNL EMERAL 2*M88 VVVE
*B J-HAVEN'S SA FAST AS A BUGATTI
03/23/2019 L2019371 **DNA ON FILE** ALPHA S1 CASEIN A/A
SS: *B HEART MT NAVION
SIRE: *B HEART MT TOTAL SARCASM
SD: GCH HEART MT SARACINA 6*M 91 VEEE
DS: ++*B KASTDEMUR'S EASY ON THE EYES 88 VEE
DAM: J-HAVEN'S EE FENDI 1*M 89 EEVE
DD: KASTDEMUR'S EUPHORIA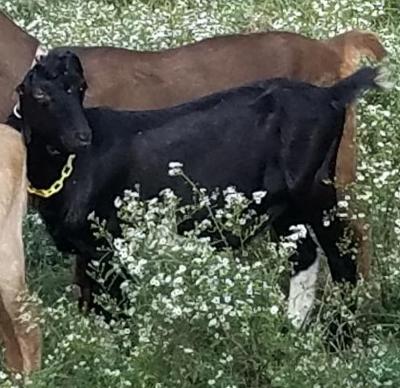 Bugatti is a black and white buck. I will be honest he was an impulse buy. Who couldn't resist the pedigree on the boy? I have great hopes that he will do great things here in the future.
CORDLE FARM B MAKIN IT JACK pending
L2079057P 03/15/2020 **POLLED** **DNA ON FILE**
I really like this buck kid. I had not planned on keeping any junior bucks but when they come out polled and flashy, well it happens. Jack is long and dairy. He has all the right boxes ticked: wattles, flash and style. I cannot wait to see this boy in the future. Litter sister is going back to the Raintree herd.
JACK IS ON LEASE
SS: * B BARNOWL MERLIN 88 VVV
SIRE: *B RAINTREE M BLAZING COLORS
SD: SGCH OPPURTUNITY COLORS GOING GREY 1*M 92 EEEE
DS: +*B J-HAVEN'S EE LIVIN' EASY 85 VV+
DAM: SGCH RAINTREE EZ KALISTA 3*M 91 EEEE
DD: SGCH RAINTREE OL KRICKET 2*M 90 EEVE