LADY-K WFS FIREBACK
A1884932 05/19/2015 88 VEVE
SS: *B PJ-BAILEY'S CHARMER'S ANGUS
SIRE: *B WINDRUSH FARMS PBA SABRE 84+VV
SD: SGCH WINDRUSH FARMS CGVR SADIE 6*M 92EEEE
DS: LADY-K WRCR WHATEVER 87 VVV
DAM: CH LADY-K LKWE AGAIN 91 EEVE
DD: LADY-K SRR XEROX 85 +V+E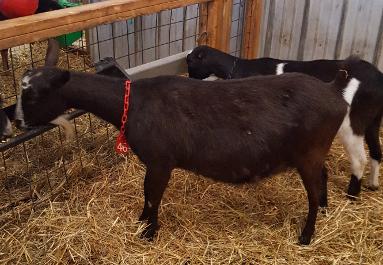 Yes you see that right. Fireback is an Alpine. When Karen Smith sold out of her Alpines, I was not quick enough to snag one. This doe came up on Facebook a few months later and I made sure she came home with me. I originally had Alpines from Karen and this girl goes back to my first doe SG Lady-K FTI Nomo. I really did not need another breed but it was just fitting to bring her to Cordle Farm.
LA SCORES
BRED:
BY-GRACE COCO PEBBLES
L1829412 03/17/2016 87 VVVV **DNA ON FILE** ALPHA S1 CASEIN F/F
SS: BY-GRACE GAMBLE
SIRE: BY-GRACE TRIBUTE
SD: SGCH BY-GRACE PAISLEY 1*M 91 EEEE
DS: BY-GRACE SUNDOWNER 90 EEE
DAM: CH BY-GRACE PIPER 90 VEEE
DD: BY-GRACE ALY 92 EEEE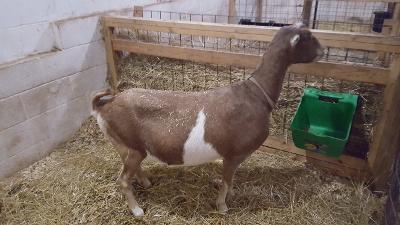 Coco is a big doe with lots of width. I love the long neck on her. I have long admired Kathy Howard's herd By-Grace and every once and while I can manage to sneak a nice doe out of her barn. I am thankful for her allowing Coco to come to Cordle Farm.
Coco did not settle AI last year so is taking the year off and getting sassier.
BRED: DNA ON ALL KIDS
LA SCORES
HILL N HOLLER BAYOU ALPENROSEN
A1879479 03/29/2017
SS: MISDEE'S NK CRITERION
SIRE: HILL N HOLLER CTR BAYOU
SD: HILL N HOLLER MARQUIS BLYSS
DS: HILL N HOLLER MARQUIS GAVIN
DAM: HILL N HOLLER GAVIN APLENGLOW
DD: HILL N HOLLER POSEIDON ALIBI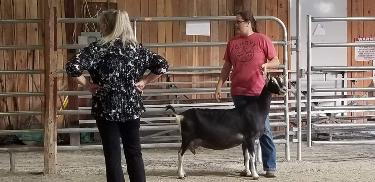 LA SCORES
2021 - 88 VEEV
Res Grand Champion Sr Doe - Dickson County Fair 2021
BRED: DNA ON ALL DOE KIDS (EXPERIMENTAL KIDS)
CORDLE FARM MCST KIWI
L1940584 02/19/2018 *DNA ON FILE** APLHA S1 CASEIN F/F
SS: J-HAVEN'S SUN OF A GUN 84 +EV
SIRE: MASTER'S CALL SHERMAN TANK
SD: MASTER'S CALL RISE LIKE CREAM
DS: HARMONY WOODS MACABEEZ 87 VEV
DAM: CORDLE FARM HWM HONEYDEW
DD: CH DAYLILY RIDGE WATERMELON RIND 87 VEV+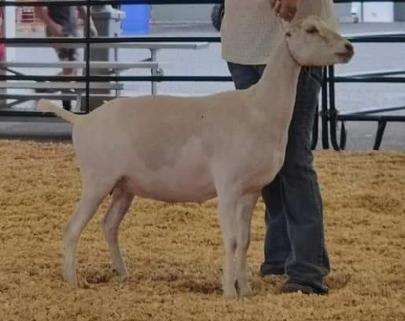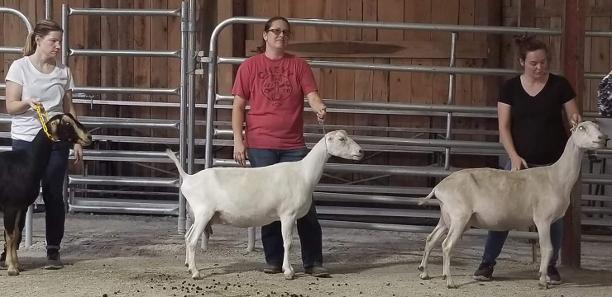 Kiwi is the last of my Watermelon doe line and I have great hopes for her. She was a little small kid that just seemed to never grow, but that old saying a watched pot never boils is true. She was the only kid I kept from the 2018 crop and I kind of just put her in the pen with the bottle babies to teach them the ropes. She just blossomed before my eyes. I am so glad that I kept her. She is a thick doe that has ton of dairy strength. I cannot wait to see this girl in milk.
WOW is all I can say. This girl blew me away at appraisal! She is a barn favorite and it is nice to get some validation that on this girl I was not completely barn blind. While an older style type of doe, I can not wait to see what the fall show season brings for this girl. I most certainly need to update her picture.
She is bred to Mischief in what I hope to be a solid linebreeding for some older genetics.
BRED:
LA SCORES
2021 - 89 VVEV
Grand Champion Sr Doe - Dickson County Fair 2021