BY-GRACE COCO PEBBLES
PL1829412 03/17/2016 87 VVVV **DNA ON FILE** ALPHA S1 CASEIN F/F
SS: BY-GRACE GAMBLE
SIRE: BY-GRACE TRIBUTE
SD: SGCH BY-GRACE PAISLEY 1*M 91 EEEE
DS: BY-GRACE SUNDOWNER 90 EEE
DAM: CH BY-GRACE PIPER 90 VEEE
DD: BY-GRACE ALY 92 EEEE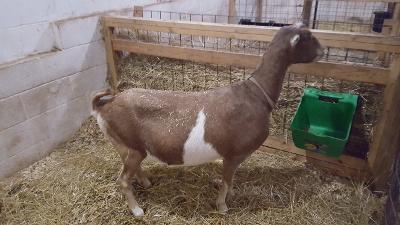 Coco is a big doe with lots of width. I love the long neck on her. I have long admired Kathy Howard's herd By-Grace and every once and while I can manage to sneak a nice doe out of her barn. I am thankful for her allowing Coco to come to Cordle Farm.
Coco has been dried off for the 2022 season. She bloated in early March, though it was caught early, she has not bounced back the way I think she should. She also impaled her lower neck with something in the pasture not long after she bloated. Between the two issues, I felt it was better off letting her regroup and have the summer off. I will be breeding her for late November or early December kids.
Coco kidded Dec 9, 2021 with a beautiful single buck kid that went toArkansas.
BRED:
KIDDED 12/09/2021 1 BUCK KID
LA SCORES
CORDLE FARM MCST KIWI
DECEASED FOR REFERANCE
PL1940584 02/19/2018 *DNA ON FILE** APLHA S1 CASEIN F/F
SS: J-HAVEN'S SUN OF A GUN 84 +EV
SIRE: MASTER'S CALL SHERMAN TANK
SD: MASTER'S CALL RISE LIKE CREAM
DS: HARMONY WOODS MACABEEZ 87 VEV
DAM: CORDLE FARM HWM HONEYDEW
DD: CH DAYLILY RIDGE WATERMELON RIND 87 VEV+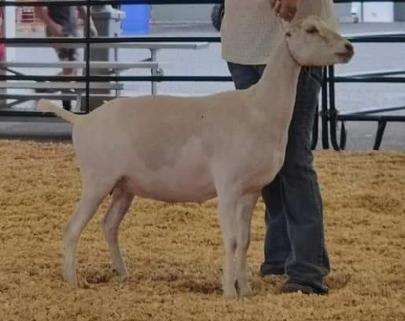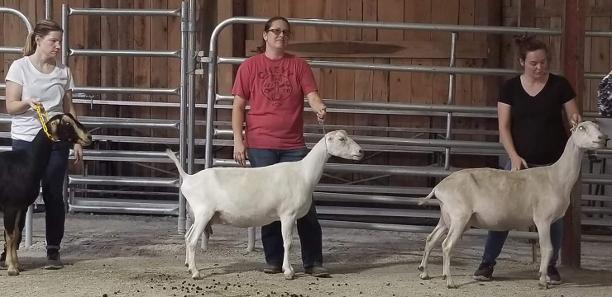 Kiwi is the last of my Watermelon doe line and I have great hopes for her. She was a little small kid that just seemed to never grow, but that old saying a watched pot never boils is true. She was the only kid I kept from the 2018 crop and I kind of just put her in the pen with the bottle babies to teach them the ropes. She just blossomed before my eyes. I am so glad that I kept her. She is a thick doe that has ton of dairy strength. I cannot wait to see this girl in milk.
WOW is all I can say. This girl blew me away at appraisal! She is a barn favorite and it is nice to get some validation that on this girl I was not completely barn blind. While an older style type of doe, I can not wait to see what the fall show season brings for this girl. I most certainly need to update her picture.
She is bred to NIGHT TRAIN for March kids. I can't wait :)
BRED: NIGHT TRAIN MARCH 15 1 BUCK
LA SCORES
2021 - 89 VVEV
Grand Champion Sr Doe - Dickson County Fair 2021