CORDLE FARM FLIRTY RAVEN
PL2292566 DOB: 02/19/2023 ***DNA ON FILE -PQ***
SS: AUTUMN-ACRES ACE SCOUT
SIRE: MOORSE-G BORN TO FLIRT
SD: CH MOORSE-G RG FLIRTINI 88 VVVV
DS: *B GOAT-SAN VITO
DAM: TEMPO ZAHRA
DD: SGCH TEMPO MERYL 10*M 92 EEEE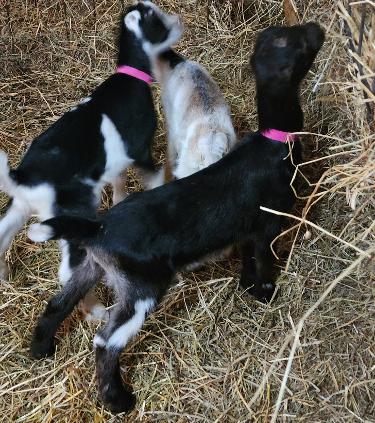 BENTON FAVORITE GIRL
PE2295090 DOB: 02/22/2023 50% NUBIAN 50% LAMANCHA ***DNA ON FILE***
SS: DAYLILY RIDGE BLAZING MISCHIEF
SIRE: DAYLILY RIDGE MISCHIEF'S NOAH
SD: DAYLILY RIDGE FAVORITE GIRL 90 EEEV
DS: CH MY BUDDY'S GENERAL LEE 86 VVE
DAM: DOE LAKE SPARKLING CERISE *M
DD: SGCH MY BUDDY'S BE CHERRY BOMB *M88 VEEV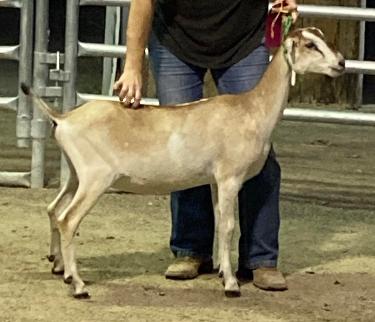 CORDLE FARM LSM RIDDLE
PL2295471 DOB 04/10/2023 ***DNA ON FILE - PQ***
SS: *B ROCKIN-CB KWY JIANGXI 88 VVE
SIRE: *B LUCKY*STARS'S RJ MORGAN
SD: SG LUCKY*STAR'S RD FAYE 7*M 91 EEEE
DS: CH CAELUM PARVUM NC ANTERES 88 VEV
DAM: CAELUM PARVUM CPA MAIA
DD: CAELUM PARVUM CPX HOLLY 86 VVVV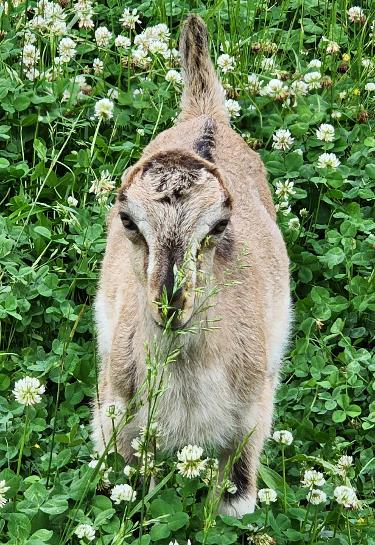 Riddle is the baby of the barn and as such is a tad spoilt! She is a growthy, dairy kid that while not flashy has all the right pieces and parts. I can't wait to see how she changes of the winter. She is one to watch out for next year!
Res Champion Jr Doe - Southern Belle Showdown 2023, Ring 1 - Cookville, TN
Goat Detail: CORDLE FARM LSM RIDDLE - L002295471 (PB Doe) (adgagenetics.org)
DAYLILY RIDGE READY ROXANNE
PL2281772 DOB 02/03/2023 ***DNA TO BE DONE***
SS: ROCKIN-CB KWY JIANGXI 88 VVE
SIRE: LUCKY*STAR'S RJ MORGAN 87 VVE
SD: SG LUCKY*STAR'S RD FAYE 91 EEEE
DS: POSSUM HOLLOW MEMPHIS MAGIC
DAM: POSSUM HOLLOW ENDORA 89 VEEE
DD: WHISPHER-N-CREEK CRIMSON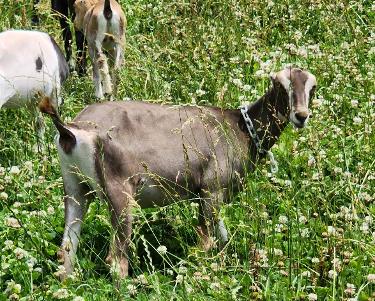 LADY-K BTS RUMOR
AS2324818 DOB:03/04/2023 ***DNA TO BE DONE***
SS: SHERRY'S LEEVI CAM
SIRE: BLISSBERRY TALKIN' SMACK
SD: GCH LADY-K AFJ JIBBERISH 92 VEEE
DS: ARABY-FARM AFM AXYL
DAM: LADY-K MFA NONSENSE
DD: LADY-K AFJ JIBBER-JABBER 89 VEEE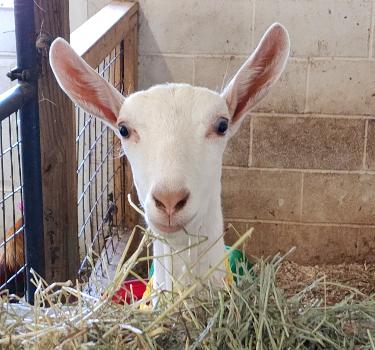 Rumor was kind of an impulse buy. I wanted a milker and I always buy 2 at a time. What better way to transition into a new herd than with mom! This kid is long, and tall. I really am looking forward to showing her as a dry yearling next year.
Res Champion Jr Doe - Star Spangled Showdown 2023, Ring 2 - Pulaski, TN
Res Champion Jr Doe - Williamson Cty Fair 2023 - Franklin, TN
Goat Detail: LADY-K BTS RUMOR - S002324818 (AM Doe) (adgagenetics.org)