Cordle Farm has taken on a few new adventures! I wanted to try making beeswax candles but the cost of the candle wax is kind of cost prohibitive to start out learning with. So I got a small DIY soy wax candle kit and I love it! Making candles is nice and relaxing in a repetitive way.
All candles are as natural as possible, no coloring or dyes, fragrance oil added. All of the candles made here are HAND POURED! They are a plain, jane white wax candle that burns a long time! My husband even likes them.
They are for sale at on the farm, certain events, and I can ship as well from the post office.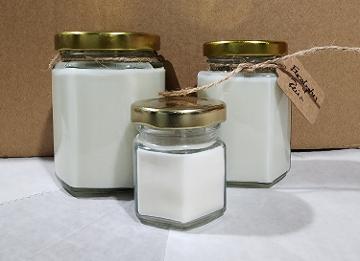 FRAGRANCE:
VANILLA - DOUBLE SCENT
LAVENDER
EUCALYPUS RAIN
HIBISCUS & YLANG YLANG
At the moment, all glass jars are hexagonal in shape besides the 8 oz jars. The 8 oz jars are jelly mason jars.
PRICES:
1.5 OZ - $4.00
4 OZ - $8.00
6 OZ - $12.00
8 OZ - $16.00
I will have to get with the post office for shipping info if you wish to have candles shipped. I can do the "If it fits, It ships" boxes if doing bulk orders.