DAYLILY RIDGE BLAZING MYRTLE
PENDING 11/20/2020 **DNA AND CASEIN PENDING**
SS: *B BARNOWL MERLIN 88 VVV
SIRE: *B RAINTREE M BLAZING COLORS
SD: SGCH OPPORTUNITY COLORS GOING GREY 1*M 92 EEEE
DS: HARMONY WOODS MACABEEZ 87 VEV
DAM: DAYLILY RIDGE FAVORITE GIRL 90 EEEV
DD: POSSUM HOLLOW STEVIE NIX 85 +VVV
DAYLILY RIDGE BLAZING MOCHA
PENDING 11/26/2020 **DNA AND CASEING PENDING**
SS: *B BARNOWL MERLIN 88 VVV
SIRE: *B RAINTREE M BLAZING COLORS
SD: SGCH OPPORTUNITY COLORS GOING GREY 1*M 92EEEE
DS: POSSUM HOLLOW MEMPHIS MAGIC
DAM: POSSUM HOLLOW ENDORA
DD:WHISPER-N-CREEK CRIMSON
Mocha is a lovely doe kid that I managed to pry from my mother's hands.
CORDLE FARM FMK NUTMEG
L2150564 01/02/2021 **DNA AND CASEIN PENDING**
SS: *B LUCKY*STAR'S GS JOSEF 84 ++E
SIRE: *B FIR MEADOW JSF KARAMEL 88 VVE
SD: SG FIR MEADOW EXL FAITH 3*M 90 VEEE
DS: MASTER'S CALL SHERMAN TANK
DAM: CORDLE FARM MCST KIWI
DD: CORDLE FARM HWM HONEYDEW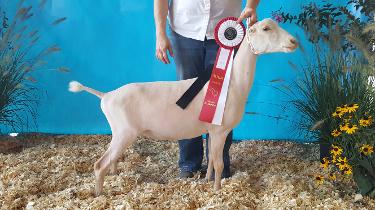 Nutmeg is a very dairy, sharp kid. I love this apricot doe.
Grand Champion Jr Doe - Williamson County Fair 2021
Grand Champion Jr Doe - Dickson County Fair 2021
BRED: DNA ON ALL KIDS
CORDLE FARM RCS NETTLE
PENDING DOB 02/03/2021
SS: PURPLE THISTLE MOJAVE 91 EEE
SIRE: ROYAL CEDARS SAMURAI
SD: GCH WEST-HOEVE AZUMI 92 EEEE
DS: LYNNHAVEN JBN NO FUN INBEHAVIN 88 VE+
DAM: SG LIBERTY LADIES NF M HYSSOP 89 VVVE
DD: LIBERTY LADIES NF EM MAJORAM
CORDLE FARM KVF NAPALM
PENDING 05/02/2021
SS: KICKAPOO-VALLEY REAL CARELESS 90 VEE
SIRE: KICKAPOO-VALLEY FEARLESS II
SD: GCH KICKAPOO-VALLEY PROUD ECHO 91EEEV
DS: WINDRUSH FARMS PBA SABRE 84 +VV
DAM: LADY-K WFS FIREBACK 88 VEVE
DD: CH LADY-K LKWE AGAIN 91 EEVE