DAYLILY RIDGE BLAZING MEMORIES
L2146344 11/26/2020
SS: *B BARNOWL MERLIN 88 VVV
SIRE: *B RAINTREE M BLAZING COLORS
SD: SGCH OPPORTUNITY COLORS GOING GREY 1*M 92EEEE
DS: POSSUM HOLLOW MEMPHIS MAGIC
DAM: POSSUM HOLLOW ENDORA
DD:WHISPER-N-CREEK CRIMSON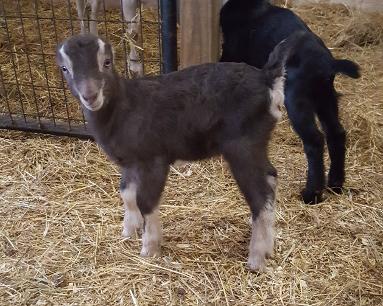 Mems is a lovely doe kid that I managed to pry from my mother's hands. I think this kid will be stunning as she get older. She is chocolate with tan trim and loads of sass.
CORDLE FARM FMK NUTMEG
L2150564 01/02/2021
SS: *B LUCKY*STAR'S GS JOSEF 84 ++E
SIRE: *B FIR MEADOW JSF KARAMEL 88 VVE
SD: SG FIR MEADOW EXL FAITH 3*M 90 VEEE
DS: MASTER'S CALL SHERMAN TANK
DAM: CORDLE FARM MCST KIWI
DD: CORDLE FARM HWM HONEYDEW
Nutmeg is a very dairy, sharp kid. I love this apricot doe.
CORDLE FARM RCS NETTLE
PENDING DOB 02/03/2021
SS:
SIRE: ROYAL CEDARS SAMURAI
SD:
DS:
DAM: SG LIBERTY LADIES NF M HYSSOP
DD:
HILL N HOLLER SUNNY ALPENNOOR
03/23/2021 PENDING
SS: MISSDEE'S RL DONATELLO
SIRE: SINGING CROW DN EVE'S SUNNY
SD: SINGING CROW ESP EVITA
DS: HILL N HOLLER CTR BAYOU
DAM: HILL N HOLLER BAYOU ALPENROSEN
DD: HILL N HOLLER GAVIN ALPENGLOW
HILL N HOLLER GEO NADINE
03/30/2021 PENDING
SS: HILL N HLLER CTR BAYOU
SIRE: HILL N HOLLER BAYOU GEOFFREY
SD: HILL N HOLLER MIRAGE GARBO
DS: HILL N HOLLER MARQUIS GAVIN
DAM: HILL N HOLLER GAVIN MARAKECH
DD: HILL N HOLLER PERFET MILO