DAYLILY RIDGE BLAZING MYRTLE
PL2184008 11/20/2020 **DNA ON FILE** ALPHA S1 CASEIN F/F
SS: *B BARNOWL MERLIN 88 VVV
SIRE: *B RAINTREE M BLAZING COLORS 88 VVE
SD: SGCH OPPORTUNITY COLORS GOING GREY 1*M 92 EEEE
DS: HARMONY WOODS MACABEEZ 87 VEV
DAM: DAYLILY RIDGE FAVORITE GIRL 90 EEEV
DD: POSSUM HOLLOW STEVIE NIX 85 +VVV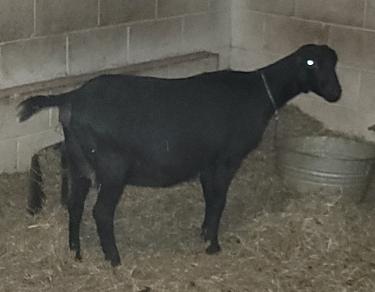 DUE: APRIL 1 B/D
I can't wait for this doe to freshen. She is out of one of my all time favorite does of Mom's. Mom has been using my bucks for several years so I feel that she is my breeding as well. Myrtle is an older style doe like her dam but she is such as sweetheart in the barn.
Myrtle survived a dog attack in April 2022. She has been dried off so the she can heal more efficiently.
CORDLE FARM FMK NUTMEG
L2150564 01/02/2021 **DNA ON FILE** ALPHA S1 CASEIN A/F
SS: *B LUCKY*STAR'S GS JOSEF 84 ++E
SIRE: *B FIR MEADOW JSF KARAMEL 88 VVE
SD: SG FIR MEADOW EXL FAITH 3*M 90 VEEE
DS: MASTER'S CALL SHERMAN TANK
DAM: CORDLE FARM MCST KIWI 89 VVEV
DD: CORDLE FARM HWM HONEYDEW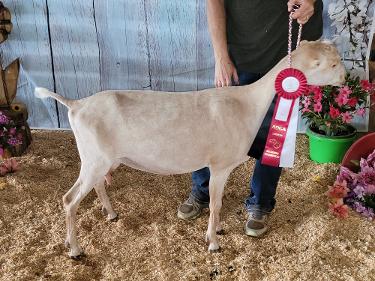 Nutmeg is a very dairy, sharp kid. I love this apricot doe.
Grand Champion Jr Doe - Williamson County Fair 2021
Grand Champion Jr Doe - Dickson County Fair 2021
Reserve Champion Sr Doe - Southern Bell Showdown 2022, Ring 4 - Cookeville, TN
BRED: DNA ON ALL KIDS
KIDDED NOV 30, 2021 WITH 2 BUCK KIDS
What is say about this doe? I absolutely love her. She is out of my herd favorite Kiwi. She is going to be slower maturing as this line does but WOW at the rear udder that she freshened with. I am so happy with this little doe. The sky is the limit with this one. I can't wait to see her in another 3 years.
CALICO-ACRES MH MIRANA
PL2146732 DOB 01/06/2021 DNA AND CASEIN PENDING
SS: SG +*B ROCKIN-CB KR HOKU
SIRE: *B KASTDEMUR'S HW MAD HATTER 90 VEE
SD: GCH KASTDEMUR'S WICKED 6*M 92 EEEE 2018 NATIONAL CHAMPION
DS: SG +*B LUCKY*STAR'S LX FORCEPLAY 89 VEE
DAM: PLATTE VALLEY JULIET 2*M 90 VVEE
DD: PLATTE VALLEY KALINDA 1*M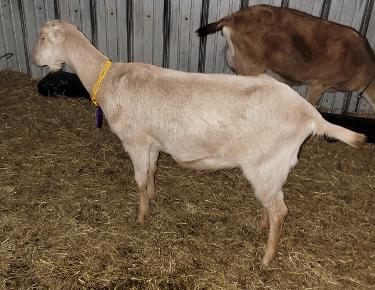 BRED: RAINTREE M BLAZING COLORS DUE: FEB 2ND 1 DOE KID
Orange. This doe is orange. Do I need say more, LOL. Everyone should have an orange doe in their herd, esp. one with the depth of pedigree of this doe. She is a tall, long doe that is only going to get better with age.
Mirana survived a dog attack in April 2022. She has been dried off to heal more efficiently.
RAINTREE SIN'S PIXY DUST
PL2156163 03/03/2021 ***DNA ON FILE***
SS: *B HURICANE-PM HSW DECADENT
SIRE: MINT*LEAF DECADENT SINS
SD: CH MINT*LEAF SIRIUS AUBURN
DS: *B BARNOWL MERLIN
DAM: SG RAINTREE M GYPSY MAGIC 2*M
DD: SGCH OPPORTUNITY COLORS GOING GREY 1*M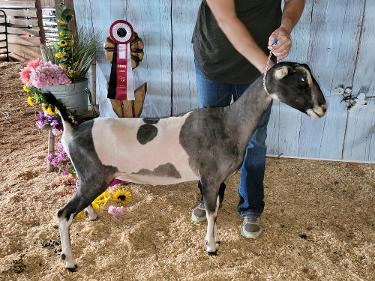 Grand Champion Jr Doe - Southern Belle Showdown 2022, Ring 1 - Cookeville, TN