CORDLE FARM B MELODY
L2079061 03/17/2020 **DNA ON FILE** ALPHA S1 CASEIN F/F
SS: *B BARNOWL MERLIN 88 VVV
SIRE: *B RAINTREE M BLAZING COLORS 80 +++
SD: SGCH OPPORTUNITY COLORS GOING GREY 1*M 92 EEEE
DS:+*B OPPORTUNITY WC WINNING COLORS 86 VE+
DAM: SG CALICO PATCH WIN TWIX 2*M 88 VVVV
DD: SGCH CALICO PATCH OREO COOKIE 1*M 91 EEEE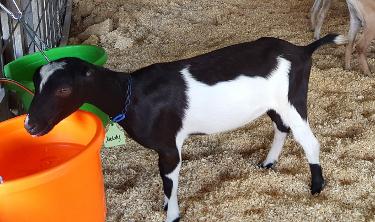 Melody is by far the most dairy of Blazes kids and the only one I kept. I was trying to keep numbers down and before I knew it she was the only one left. I did not realize that I was going to let Deb Macke talk me out of Blazes. Hopefully she follows in her grand dam's hoof prints and really shines as she gets older. She will be a dry yearling in 2021.
CORDLE FARM JB MAYBE
L2081180 03/29/2020 **DNA ON FILE** ALPHA S1 CASEIN E/E
SS: POSSUM HOLLOW MC GYVER
SIRE: CORDLE FARM PHM JOHNNY BALL
SD: CH DAYLILY RIDGE WATERMELON RIND 87 VEV+ @ 10 YEARS OLD
DS: FAR OUT STARBUCKS MOCHA
DAM: DAYLILY RIDGE FOSM ENVY 86 VVEV
DD: BY-GRACE XTREME CREME 2 LEGS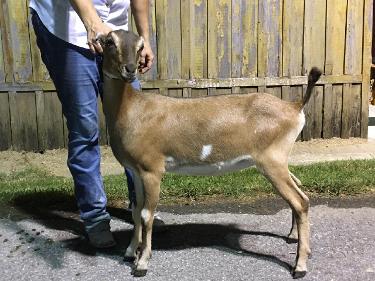 Maybe was born a triplet and I was so glad that Envy gave me at least one girl. This little girl is the favorite of the farm and pretty rotten. I expect great things out of her as she get older. She is the combination of two different lines that I have been working with since I started developing my own breeding program. Her lines are more slow maturing but she should be a big doe eventually. She will be a dry yearling for 2021.
LUCKY*STAR'S RJ MOMENT
L2079034 DOB: 3/07/2020 **DNA ON FILE**
SS: ++*B GCH KSTDEMU'R'S WATCH YOURSELF 91EEE
SIRE: *B ROCKIN-CB KWY JIANGXI
SD: SGCH ROCKIN-CB RZ HAIKU 8*M 91EEEE
DS: +*B SG TEMPO CAI DANIEL
DAM: SG LUCKY*STAR'S TD KUDOS 4*M 87VV+V
DD: SGCH LUCKY*STAR'S RY ACCOLADE 3*M 92EEEE