CORDLE FARM B COLORS OF LETTIE
02/02/2019 L2000627 **DNA OF FILE** ALPHA S1 CASEIN E/F
SS: *B BARNOWL MERLIN 88 VVV
SIRE: *B RAINTREE M BLAZING COLORS 80 +++
SD: SGCH OPPORTUNITY COLORS GOING GREY 1*M 92 EEEE
DS: FAR OUT STARBUCKS MOCHA
DAM: DAYLILY RIDGE FOSM ENVY 86 VVEV
DD: BY-GRACE XTREME CREME 2CH LEGS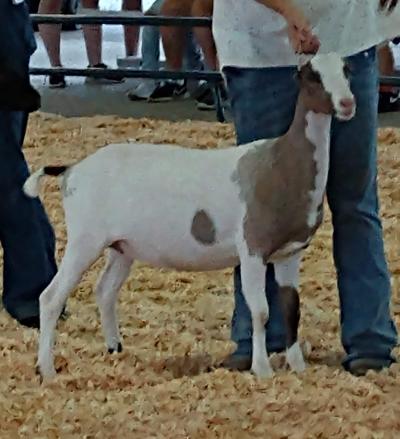 Lettie is special doe to me. I just love this girl. She has a lovely front end and is very deep through out. This is the doe to watch in the future. I can't wait to see how she freshens.
BRED: BLAZES DUE MARCH
JR GRAND CHAMPION DOE 2019 DICKSON COUNTY FAIR
CALICO FIELDS Q JUNIPER
02/23/2013 E2003306 **DNA ON FILE**
SS: *B LONE THISTLE BASTILLE 89 VEE
SIRE: *B BARNOWL QUONG 84 +V+
SD: SGCH BARNOWL QUILL 1*M 92 EEEE
DS: PLEASANT-GROVE MANNY MOONSHINE
DAM: CALICO-ACRES MS JORDAN 83 +VV+ (FF)
DD: BARNOWL RED JAZZLYN
CALLICO FIELDS TRAVELER'S ROSE
02/08/2019 L1997947 **DNA ON FILE**
SS:SHADY LAWN IN THE NICK OF TIME 85 +VV
SIRE: CALICO-ARCRES NOT TIME TRAVELER
SD:OPPORTUNITY ORANGE CHARADE 1*M 92EEEE
DS: +*B OPPORUNITY WC WINNING COLORS 86 VE+
DAM: CALICO FIELDS WIN RUE 1*M 91 EEEE
DD: CALICO FIELDS DS JOHANNA
TRIPLE C FARM KA LOLITA
03/01/2019 E2077575 **DNA PENDING**
SS: CH J-HAVEN MED APOLLO 91 EEE
SIRE: KRISCROSS JHA ARMANI
SD: CH KRISCROSS JT'S SILK 90 VEEE
DS: COVENANT CF ACE TUXEDO
DAM: CH TRIPLE C FARM TUS SARSAPARILLA
DD: MUSCADINE-HILLS DHS SUGAR
Lolita was an impulse buy. I hate to admit it but she is the perfect color, cou blanc with wattles. This doe is a grade 50 % Alpine (dam side) and 50 % Lamancha (sire side). She will be a dry yearling.
BRED BUGATTI NOV
CALICO PATCH TRAV'S MISTIE MAE
02/09/2019 L1998009 **DNA ON FILE**
SS: SHADY LAWN IN THE NICK OF TIME 85 +VV
SIRE: CALICO-ARCES NOT TIME TRAVELER
SD: OPPORTUNITY ORANGE CHARADE 1*M 92 EEEE
DS: J-HAVEN'S RS DENIM SUNSET 86 VV+
DAM: GCH CALICO PATCH DS SNICKERS 2*M 92 EEEE
DD: RAINTREE SL CITCAT 1*M 89 VEVV