CALICO-ACRES MH MIRANA
PL2146732 DOB 01/06/2021 ***DNA ON FILE-PARENT VERIFIED*** ALPHA S1 CASEIN A/F
SS: SG +*B ROCKIN-CB KR HOKU
SIRE: *B KASTDEMUR'S HW MAD HATTER 90 VEE
SD: GCH KASTDEMUR'S WICKED 6*M 92 EEEE 2018 NATIONAL CHAMPION
DS: SG +*B LUCKY*STAR'S LX FORCEPLAY 89 VEE
DAM: PLATTE VALLEY JULIET 2*M 90 VVEE
DD: PLATTE VALLEY KALINDA 1*M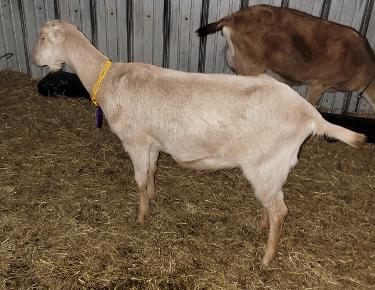 BRED: FLIRT/PIRATE JAQUE
DOE KIDS WILL BE DNA TYPED, BUCKS ONLY WITH DEPOSIT.
Orange. This doe is orange. Do I need say more, LOL. Everyone should have an orange doe in their herd, esp. one with the depth of pedigree of this doe. She is a tall, long doe that is only going to get better with age.
Mirana survived a dog attack in April 2022. She has been dried off to heal more efficiently.
I AI 'ed this doe and didn't think she settled but i'm having second thoughts. We shall see by the end of January. If she does kid it will be to SGCH ROCKSPRING DUDE DANDE DIAPLOMAT!
LS ACRES TURBO BUNNY
PL2156544 DOB 03/06/2021 ***DNA ON FILE-PARENT VERIFIED***
SS: AUTUMN-ACRES TITAN
SIRE: AUTUMN-ACRES TURBO
SD: CH AUTUMN-ACRES MY TEMOTATION
DS: +*B SOUTH-FORK TOI SOLDIER 91 EEE
DAM: GCH ROBIN-WOOD DUBONNET TS 1*M 90VEEE
DD: CH ROBIN-WOOD BOURBON CT 90 VEVE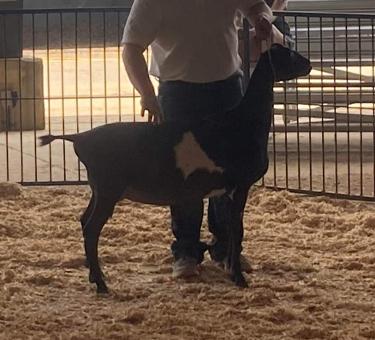 This doe is as wide as she is tall. I love the width and elegance that Bunny shows. She is definitely one to watch as she grows and matures.
11TH PLACE INTERMEDIATE KID 2021 ADGA NATIONAL SHOW
Res Grand Champion Sr - Dickson Cty Fair 2022 - Dickson, TN
BRED: FLIRT/PIRATE JAQUE
DOE KIDS WILL BE DNA TYPED, BUCKS ONLY WITH DEPOSIT. THOUGH I REALLY THINK YOU CANNOT GO WRONG WITH A BUCK KID FROM EITHER BUCK!
TRIPLE C FARM WILD DAISY (POLLED)
PC216288 03/06/2021
SS: CH ACRES OF DAISIES OH4PETESSAKE
SIRE: TRIPLE C FARM THUNDER PETE JR
SD: TRIPLE C FARM CHOCO-OBSESSION
DS: ARK OF ANGLES KTK SNAPCHAT (POLLED)
DAM: E-I-O'S SC MS SNAPCHAT (POLLED)
DD: DAITE EAN'S GIN RICKEY 1*M
What can I say! This does was long called Crazy Daisy by me before I ever realized her name was actually Wild Daisy! Daisy is a long dairy doe that I am hoping to add some good points to my Lamancha herd. She was purchased to make some pretty grade babies.
Pic from Sam Carr, Triple C Farm
BRED: SHE IS BRED TO PAINT FOR 50% LAMANCHA/SABLE CROSS