CORDLE FARM B COLORS OF LETTIE
02/02/2019 L2000627 **DNA OF FILE** ALPHA S1 CASEIN E/F
SS: *B BARNOWL MERLIN 88 VVV
SIRE: *B RAINTREE M BLAZING COLORS 80 +++
SD: SGCH OPPORTUNITY COLORS GOING GREY 1*M 92 EEEE
DS: FAR OUT STARBUCKS MOCHA
DAM: DAYLILY RIDGE FOSM ENVY 86 VVEV
DD: BY-GRACE XTREME CREME 2CH LEGS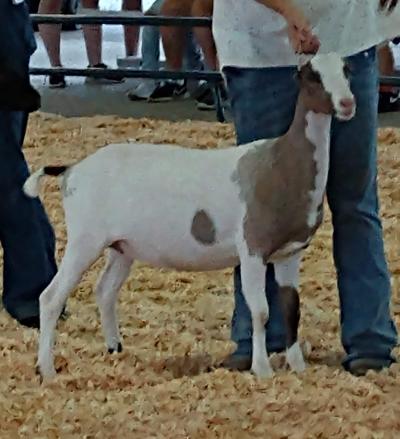 Lettie is special doe to me. I just love this girl. She has a lovely front end and is very deep through out. This is the doe to watch in the future. I can't wait to see how she freshens.
BRED: BLAZES DUE MARCH
JR GRAND CHAMPION DOE 2019 DICKSON COUNTY FAIR
RAINTREE WL HOPE
03/04/2019 L2002847 **DNA ON FILE** ALPHA S1 CASEIN A/A
SS: *B TEMPO EVERCLEAR
SIRE: CH MINT*LEAF WHITE LIGHTING 85 +VE
SD: SUMMER HAVEN AP WINGS OF MERCY
DS: LYNNHAVEN JBN NO FUN INBEHAVIN 88 VE+
DAM: SG LIBERTY LADIES OK M HYSSOP 89 VVVE
DD: LIBERTY LADIES NF EM MARJORAM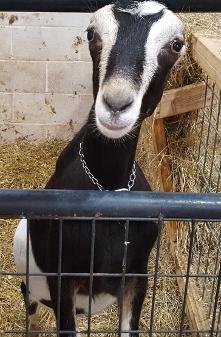 Hope, Hope, Hope...... This little doe is so deep and dairy. She is standing on a very correct set of feet and legs. I think of this girl as being a sleeper in the barn. I think she will really blossom next year.
BRED: BLAZES DUE APRIL
RES JR GRAND CHAMPION DOE 2019 DICKSON COUNTY FAIR
CALICO-LANE Q PACIFICA
03/12/2019 AL2003128 **DNA ON FILE** ALPHA S1 CASEIN pending
SS: *B LONE THISTLE BASTILLE 89 VEE
SIRE: *B BARNOWL QUONG 84 +V+
SD: SGCH BARNOWL QUILL 1*M 92 EEEE
DS: ++*B SGCH KASTDEMUR'S STINGRAY 90 VEE
DAM: KASTDEMUR'S S SERENITY 86 VVVV
DD: GCH KASTDEMUR'S KEEP CALM 5*M 90VEEE
A lovely daughter of Serenity, Pacifica, is a very wide and dairy doe. I have high expectations of this doe and can't wait to see her freshen. She was purchased as a bred doe to a son of Kastdemur's Wicked.
BRED:KASTDEMUR'S HW MAD HATTER DUE APRIL
TRIPLE C FARM KA LOLITA
pending March kid
SS: CH J-HAVEN MED APOLLO 91 EEE
SIRE: KRISCROSS JHA ARMANI
SD: CH KRISCROSS JT'S SILK 90 VEEE
DS: COVENANT CF ACE TUXEDO
DAM: CH TRIPLE C FARM TUS SARSAPARILLA
DD: MUSCADINE-HILLS DHS SUGAR
Lolita was an impulse buy. I hate to admit it but she is the perfect color, cou blanc with wattles. This doe is a grade 50 % Alpine (dam side) and 50 % Lamancha (sire side). She will be a dry yearling.