RAINTREE Q TINKERBELLE
PL2079433 04/01/2020 ***DNA TYPED-PARENT VERIFIED***
SS: *B LONE THISTLE BASTILLE 89 VEE
SIRE: *B BARNOWL QUONG 84 ++E
SD: SGCH BARNOWL QUILL 1*M 92 EEEE
DS: MINT*LEAF DECADENT SINS 91 EEE
DAM: RAINTREE SIN'S PIXIE DUST *ELITE*
DD: SG RAINTREE M GYPSY MAGIC 2*M 90 VEVE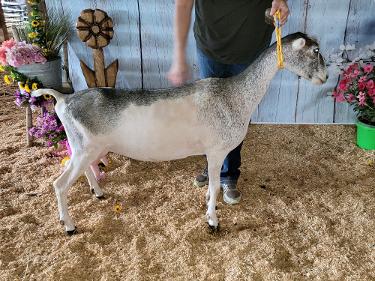 Tink is a smaller type doe that just oozes dairy strength. This doe has the will to milk and nice soft easily hand-milkable udder. I truly enjoy having this doe in my barn and I cannot wait to see how she matures! This doe is easily one of my favorites for her sweet personality alone!
BRED: PIRATE JAQUE
RAINTREE WIN LOLIPOP
PL 2070022 DOB: 02/05/2020 ***DNA ON FILE-PARENT VERIFIED***
SS: *KICKAPOO-VALLEY WILD CHARADE
SIRE: +*B SG OPPORTUNITY WC WINNING COLORS 86 V+E
SD: SGCH OPPORTUNITY COLORS GOING GREY 1*M 92 EEEE
DS: J-HAVEN'S RS DENIM SUNSET 86 VVV
DAM: SGCH CALICO-PATCH DS SNICKERS 2*M 91EEEE 2021 ADGA National Show Total Performer
DD: RAINTREE SL CITCAT 1*M 89 VVVV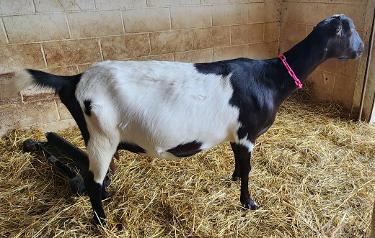 Lolipop is coming in Nov 2022 as a bred doe from Deb Macke and the Raintree herd in Wisconsin. I have always loved her dam, Snickers, and when the chance to add her to my herd, I was so excited!
Tall, long and sweet are the words that come to my mind when I think about this doe!
BRED: *B JEN-MAE-KIDS HEART THROB
KIDS HERDNAME: RAINTREE