TEMPO ZAHRA
L2014903 03/20/2019 **DNA ON FILE** ALPHA S1 CASEIN A/A
SS: ++*B SGCH KASTDEMUR'S SA STINGRAY 90VEE
SIRE: *B GOAT-SAN VITO
SD: SGCH GOAT-SAN VENICE 1*M93 EEEE NATL SHOW: GCH2015
DS: +*B SG LONE THISTLE PRESTO 91 EEE
DAM: SGCH TEMPO MERYL 10*M 92 EEEE
DD: SGCH TEMPO EVIANNA 9*M 93 EEEE NATL SHOW: RCH2015, GCH2013, RCH2012,RCH2009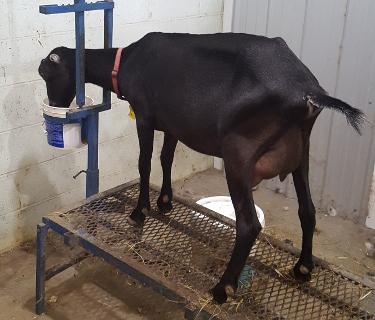 Zahra came from Laura Acton in the summer of 2020. She is a tall, leggy doe that is going to need time to mature into her frame. She is very dairy and has good feet and legs. I am looking forward to seeing this doe mature.
LA SCORES
BRED: DNA ON ALL KIDS
HILL N HOLLER SUNNY ALPENFLEUR
A2029777 03/10/2019
SS: MISDEE'S RL DONATELLO
SIRE: SINGING CROW DN EVE'S SUNNY
SD: SINGING CROW ESP EVITA
DS: HILL N HOLLER CTR BAYOU
DAM: HILL N HOLLER BAYOU ALPENROSEN
DD: HILL N HOLLER GAVIN ALPENGLOW
LA SCORES
2021 - 87 VVVV
Grand Champion Sr Doe - Dickson County Fair 2021
BRED: SYRAH DUE: MARCH
CALICO PATCH TRAV'S MISTIE MAE
02/09/2019 L1998009 **DNA ON FILE** ALPHA S1 CASEIN B/F
SS: SHADY LAWN IN THE NICK OF TIME 85 +VV
SIRE: CALICO-ARCES NOT TIME TRAVELER
SD: OPPORTUNITY ORANGE CHARADE 1*M 92 EEEE
DS: J-HAVEN'S RS DENIM SUNSET 86 VV+
DAM: GCH CALICO PATCH DS SNICKERS 2*M 92 EEEE
DD: RAINTREE SL CITCAT 1*M 89 VEVV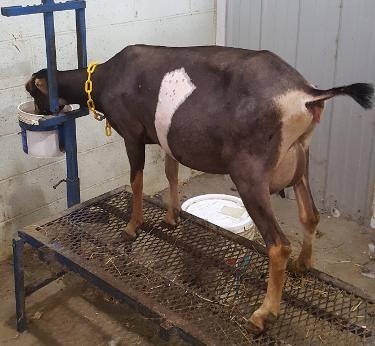 Mistie Mae is probably one of the favorites in the barn. Sweet with a very mellow personality, some days you do not even realize she is in the barn. She is a deep, dairy doe with a beautiful mammary.
BRED: DNA ON ALL KIDS
TEMPO CROSSFIT
E2065874 11/16/2019 **DNA ON FILE** ALPHA S1 CASEIN A/E
Crossfit will not be a 2 year old but I am leaving her on this page as she is a 2019 kid.
What is there not to like about Crossfit? She was a last minute addition to the herd as a friend for Zahra on the trip to Tennessee. What a pedigree. She is a deep dairy doe that is going to get big. I cannot think Laura Action enough for parting with this girl.
BRED: DNA ON ALL DOE KIDS