TEMPO ZAHRA
PL2014903 03/20/2019 **DNA ON FILE-SIRE VERIFIED** ALPHA S1 CASEIN A/A **ELITE**
SS: ++*B SGCH KASTDEMUR'S SA STINGRAY 90VEE
SIRE: *B GOAT-SAN VITO
SD: SGCH GOAT-SAN VENICE 1*M93 EEEE NATL SHOW: GCH2015
DS: +*B SG LONE THISTLE PRESTO 91 EEE
DAM: SGCH TEMPO MERYL 10*M 92 EEEE
DD: SGCH TEMPO EVIANNA 9*M 93 EEEE NATL SHOW: RCH2015, GCH2013, RCH2012,RCH2009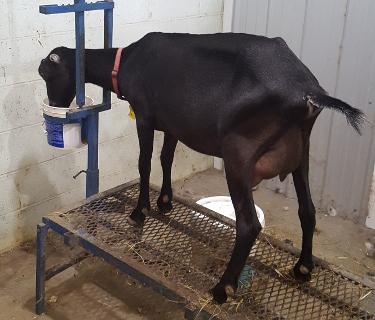 Zahra came from Laura Acton in the summer of 2020. She is a tall, leggy doe that is going to need time to mature into her frame. She is very dairy and has good feet and legs. I am looking forward to seeing this doe mature.
I swear all this doe does is eat and grow taller. As of 2022, she is the tallest doe in the barn. She is also the milkiest doe in the barn. Now to talk her into putting weight on instead of putting it all in the milk pail. I really love this doe and have high hopes that she will give me a doe kid that balances out the height with some width.
This doe is looking so amazing! I have a good feeling about 2023 for Zahra!
Grand Champion Sr Doe - Dickson Cty Fair 2022 - Dickson, TN
LA SCORES
BRED: FLIRT/PIRATE JAQUE
DOE KIDS WILL BE DNA TYPED, BUCKS ONLY WITH DEPOSIT