My mother, Brenda Steele, has the herd name Daylily Ridge. These are her few goats. Her does dam raise but are CAE negative. PLEASE let me know if interested in a buck kid, as Mom rarely disbuds or registers bucks.
I dropped Morgan off at Mom's house in March, so...… we shall see :)
POSSUM HOLLOW ENDORA
L1763167 5/18/2014
SS: SUN'S WAKIN' UP MEMPHIS
SIRE: POSSUM HOLLOW MEMPHIS MAGIC
SD: BY-GRACE BIT O MAGIC (2 LEGS)
DS: *B RAINTREE FIRESTORM'S LEO
DAM: WHISPER-N-CREEK CRIMSON
DD: DOUBLE Z ARESNIO CHAPPELLE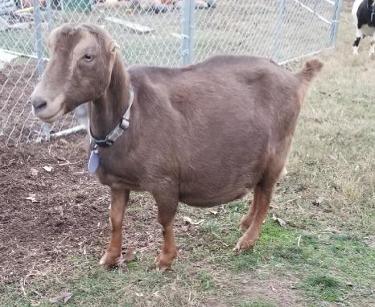 LA SCORES
2021 - 89 VEEE
2019 - 86 +VVV
2018 - 88 +EEE
2016 - 86 VVVV
KIDDED 02/04/2023 1 DOE KID RETAINED
DAYLILY RIDGE FAVORITE GIRL
L1767805 04/15/2015
SS: *B HERE BE GOATS KTL MAKAIDOS
SIRE: HARMONY WOODS MACABEEZ 87 VEV
SD: HERE BE GOATS SC CIMMARON 91 EVEE
DS: POSSUM HOLLOW FRANKIE AVALON
DAM: POSSUM HOLLOW STEVIE NIX
DD: THE BGXM PSYCHE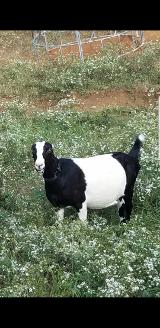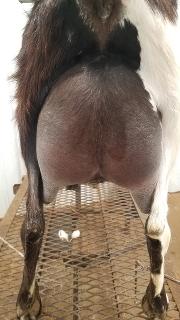 LA SCORES
2021 - 90 EEEV
2019 - 84 +V+V
2018 - 86 +VVV
2016 - 85 VVVV
KIDDED 01/30/2023 DOE/BUCK TWINS.
DOE AND BUCK RETAINED
BY-GRACE COCO PEBBLES
PL1829412 03/17/2016 87 VVVV **DNA ON FILE** ALPHA S1 CASEIN F/F
SS: BY-GRACE GAMBLE
SIRE: BY-GRACE TRIBUTE
SD: SGCH BY-GRACE PAISLEY 1*M 91 EEEE
DS: BY-GRACE SUNDOWNER 90 EEE
DAM: CH BY-GRACE PIPER 90 VEEE
DD: BY-GRACE ALY 92 EEE
KIDDED: 01/28/2023 DOE/BUCK TWINS
BUCK IS NURSING BUT WILL BE AVAILABLE AT WEANING IF ANYONE IS INTERESTED.
THE LOLIPOP'S TAFFY
DOB: 4/16/2022
SIRE: UNKNOWN- HE IS A PURBRED LAMANCHA BUT THE BREEDER DIDN'T WANT TO DO DNA
DS: +*B SG OPPORTUNITY WC WINNING COLORS 86 V+E
DAM: RAINTREE WIN LOLIPOP
DD: SGCH CALICO PATCH DS SNICKERS 2*M 91 EEEE 2021 National Show Total Performer